Are you one of the Millions planning to travel to one of 12 states to view the Great American Solar Eclipse? Here are the details on how to protect your eyes with the CORRECT solar eclipse glasses, and where you can find them.
On August 21 the moon will cast a 70 mile-wide shadow across 12 states in the U.S. And with all the hype going on it can be easy to forget that you should thoroughly protect your eyes. Surely you've seen all the free solar eclipse glasses being distributed across the States, but how safe are they really?


NASA is warning that some of those glasses may not be safe at all
"There are unsafe paper solar glasses being distributed," said NASA in a press release last week. Similar to 3D glasses, eclipse "glasses" are made from card and inlaid with a unique material that cuts the Sun's light down 100,000 times.
However, there are certain precautions you can take to assure the glasses you use to view the solar eclipse directly, don't cause permanent damage to your eyes.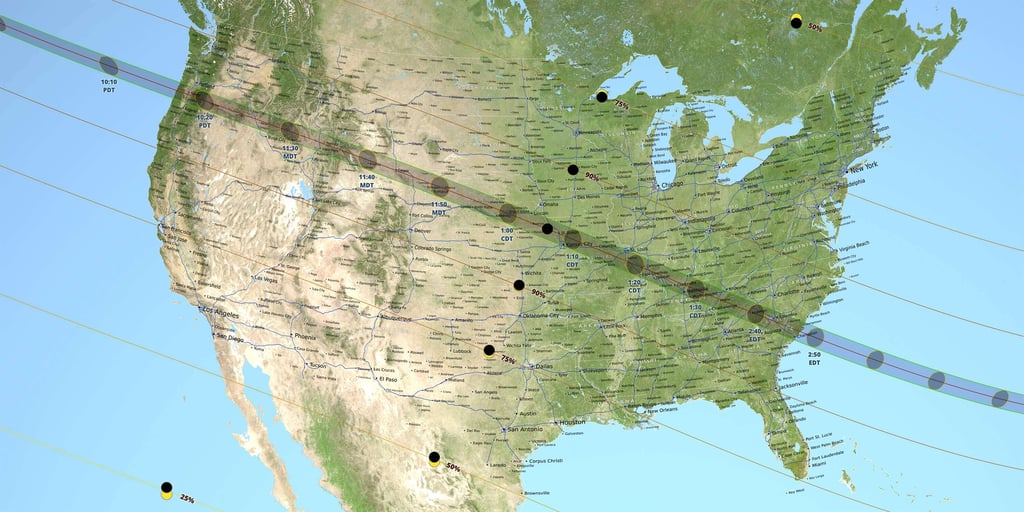 Map courtesy of Nasa - remember you must be in the dark band (shown on map) to experience a TOTAL eclipse.
Let's Debunk Some Common Myths First


Really Dark Sunglasses are fine to use when watching the solar eclipse - NO, you'll still be burning your retinas, the only difference is you'll look "cool" while slowly blinding yourself. Dark sunglasses don't protect your eyes when staring directly into the sun. In fact, they trick your eyes to let in more light, so they can cause even more damage.


Medical X-ray Film - X-Ray film doesn't do anythin
g to protect your eyes when staring at the sun, the only thing they're good for is for X-rays, and maybe some cool DIY stuff for kids.


Floppy Discs - this seems like a good old-fashioned way of watching a solar eclipse. It was stupid in the 80's, and it's stupid now. No, they don't do anything to protect your eyes, but if you still have floppy discs you're probably on the wrong page.


Homemade Filters - you're not paying attention! NASA strongly advises against using homemade solar eclipse viewers, and suggest that they aren't likely to provide any protection at all.


Welding Helmets - this is the only exception to the rule, BUT not all welding helmets are created equally. NASA recommends you find a welding helmet with a rating of 14 or higher if you're planning to view the solar eclipse like a Space Cadet.



So, How Do You Find the Right Solar Eclipse Glasses?


Here are the marks that MUST be on your pair of Solar Eclipse Glasses:
ISO

- The International Organization for Standardization or "ISO" with a reference number of 12312-2 printed on the glasses.

CE

- The European Commission's mark of approval
NASA lists - American Paper Optics, Rainbow Symphony, Thousand Oaks Optical and TSE 17 as reputable producers of eclipse glasses whose products can be trusted.
AstroSolar Silver/Gold lensed glasses by the Baader Planetarium are also recommended.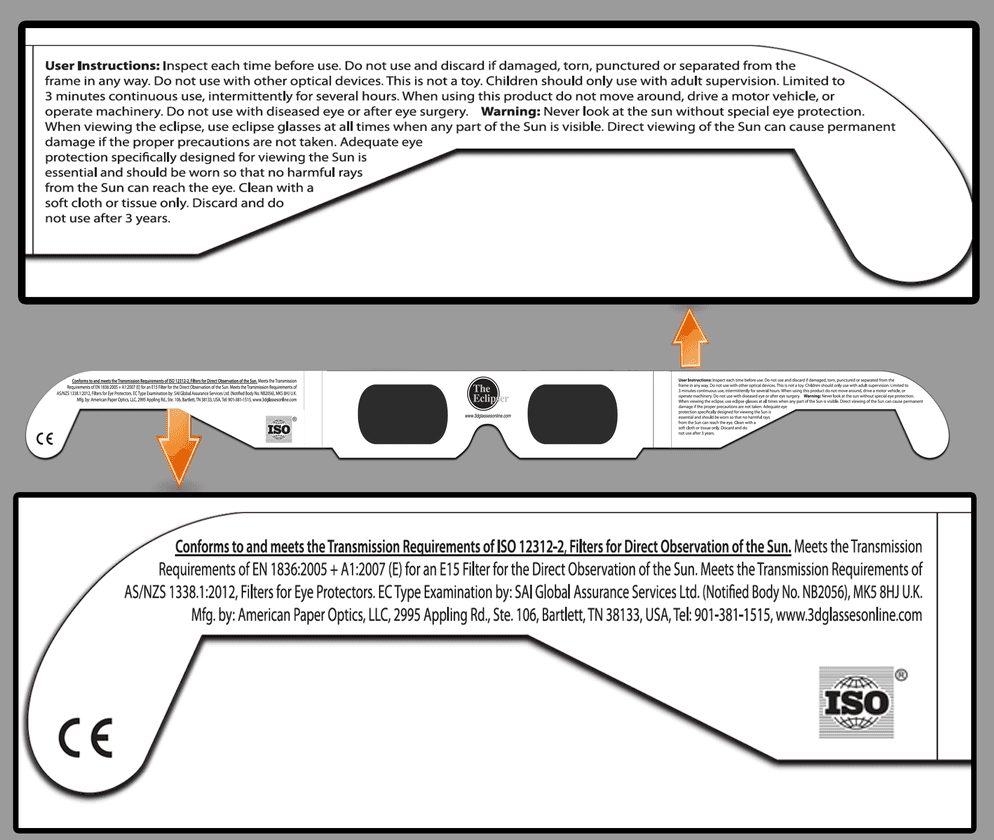 One Last Thing
In a previous blog "undeniable proof that eyewear quality standards are still important" we look at why quality eyewear is crucial to your eye health. Eclipse glasses tend to be quite fragile, and NASA advises that there are instances in which, even if the lenses are manufactured correctly, they may be unsafe. If lenses are scratched or wrinkled they should be discarded and not used, also, glasses older than three years are similarly dangerous.
Stay safe out there and enjoy the Solar Eclipse!!!
Do you have any questions about eyewear quality? Need any further information about free solar eclipse glasses and how to protect your eyes?
If so, please leave a comment below and we'll get back to you soonest.