Cellulose Acetate is the most commonly used material to manufacture eyewear frames today. Recently there have been some serious issues with lenses being damaged during shipping, and acetate has been singled out as the possible culprit. Read on as we investigate...
PEL recently performed an inspection on a batch of eyewear for one of our clients, and after extensive QC testing, the products were given a thumbs up. The eyewear was packaged and shipped in good order, but when the shipment arrived in the U.S. thirty days later the lenses had mysteriously been damaged beyond repair, and nobody knew why.
Was this a once off issue?
Far from being an isolated incident we soon discovered that the exact same thing was happening to major names in the eyewear trade.
As a leading independent third party eyewear inspection company, we set out to investigate the problem. Starting with the process of elimination we concluded that this was only prevalent with acetate frames, as they were, as far as we could see, the only common denominator.
So what does PEL test?
PEL perform a series of tests during an eyewear QC inspection, many of which involve lab testing to ensure there are no harmful chemicals present in the frames or lenses; and one test in particular tests coating and adhesion. Although there have been reported cases of allergies to cellulose acetate itself, the majority of complaints come down to reactions to additives and polishes used on the frames.
So naturally we started chemical testing on the adhesives and finish, but the results were the same as before, there was nothing dangerous present.
To get to the cause of why these lenses ended up damaged during shipping we knew we had to look into the actual production of the acetate sheets.
What Exactly is Cellulose Acetate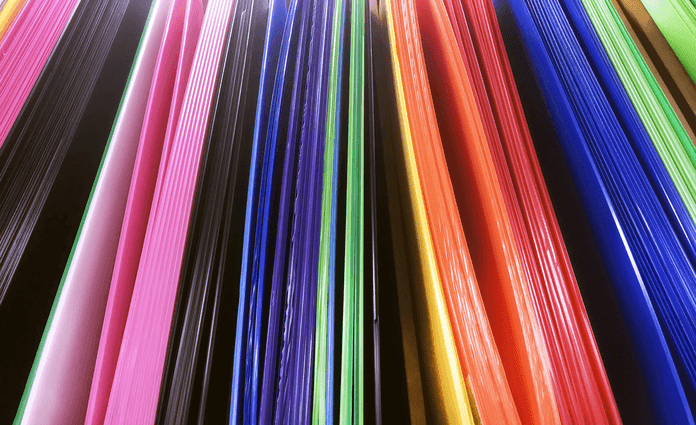 Cellulose acetate is a hypoallergenic plant-based plastic that has been used for producing eyewear since the late 1940's. Acetate was the response to the problem of regular plastic frames that kept breaking due to brittleness.
Acetate is known for its durability, strength, flexibility which makes it perfect for crafting eyewear frames. It also has the widest range of color options available (often complex coloring) of any material used for manufacturing eyewear frames.
Companies such as Mazzucchelli in Italy produce up to 9000 new colors each year to meet market demands. You can see more of the actual processing in the video from their factory in Italy:
What Is It Made Of?
While petroleum based products tend to be more harmful to the environment Cellulose Acetate is produced from renewable materials like wood pulp and cotton.
During the manufacturing process natural cellulose is reacted with acetic anhydride to produce Cellulose Acetate, which turns into a flake form. These flakes are then ground to a fine powder.
Cellulose Acetate in its primary form cannot be processed as a thermoplastic. It can only be processed by dissolving it in a solvent and spinning or casting. However, in a compounded form it can be processed by normal plastic processing techniques. Cellulose Acetate must be blended with an exact combination of plasticizers and additives, melted and compounded to produce Cellulose Acetate granules. These granules can then be processed using any standard technique. In a previous blog "How It's Made - Eyewear Startup Advice" we looked at eyewear manufacturing techniques and material in more detail.
Similar Case
A few years ago PEL was asked to look into a case where acetate frames were causing issues such as rashes and skin irritation.
We asked our new clients to send us samples of the eyewear in question, and we found that the acetate or "Zyl" frames were not acetate at all, but rather injection molded propionate and the surface dyes ended up being the culprit.
However, the acetate glasses in question now are in fact acetate frames, so we needed to dig deeper. We ran through the cellulose production process as explained above but nothing stood out, everything appeared to be fine.
This didn't leave us with many options!
So we started looking into the storage of the Acetate sheets before they are cut and used in frame manufacturing. Acetate plates must be stored up to a year or more before the plates can be cut and used to produce eyewear.
The plates are stored, or 'cured,' for an extended period to assure that they don't leach any chemicals and are in fact safe for the use in eyewear that won't cause any allergies or chemical "leaking."
But with the manufacturing of eyewear at an all-time high and growing daily we started to suspect that some of the manufacturers weren't giving the acetate sheets enough time to cure. The only way to discern whether acetate plates are being stored long enough is to rely on the word of the manufacturer.
Resolution
Our problem though was to figure out why the lenses ended up damaged after 30 days of sea freight to the U.S. And our strongest working hypothesis is that this happens because of a chemical reaction due to the sheets not being aged properly, and we are currently still investigating. As previously mentioned major eyewear companies are struggling with this very issue, and so far there has been no resolution.
We have identified the specific conditions, and although this isn't a frequent occurrence, we at PEL are compelled to find a solution for any eyewear related QC issues. In response to this growing problem, PEL is now in the process of developing a series of unique tests to ensure that the acetate sheets used for frame production meet specific criteria.
Have you struggled with damaged eyewear but couldn't identify the root of the problem? Any advice or cautionary tales for our readers regarding acetate frames?
Please feel free to leave a comment below.