When it comes to purchasing behaviour, consumers are becoming increasingly conscious of their environmental footprint. As a matter of fact, almost 73% of consumers worldwide say they would change their consumption habits to reduce their impact on the environment. This shift in consumer behaviour has encouraged several industries to embrace a more eco-conscious approach to business – and the eyewear industry is no exception.
Many eyewear companies worldwide are embracing a greener approach to manufacturing. The business models of some of the top eyewear companies like Neubau Eyewear and Eco Eyewear are focused on sustainability, to project an eco-conscious brand image to the public. No doubt, it has become abundantly clear that sustainability in the eyewear industry is here to stay and is definitely a viable option for your business.
But you're probably wondering, what are the main components that constitute eco-friendly eyewear glasses? Would it be worth venturing into this field? Before deciding to switch up your operations, let's discuss a little bit more about some of your available options for manufacturing eco-friendly glasses.
What is eco-friendly eyewear?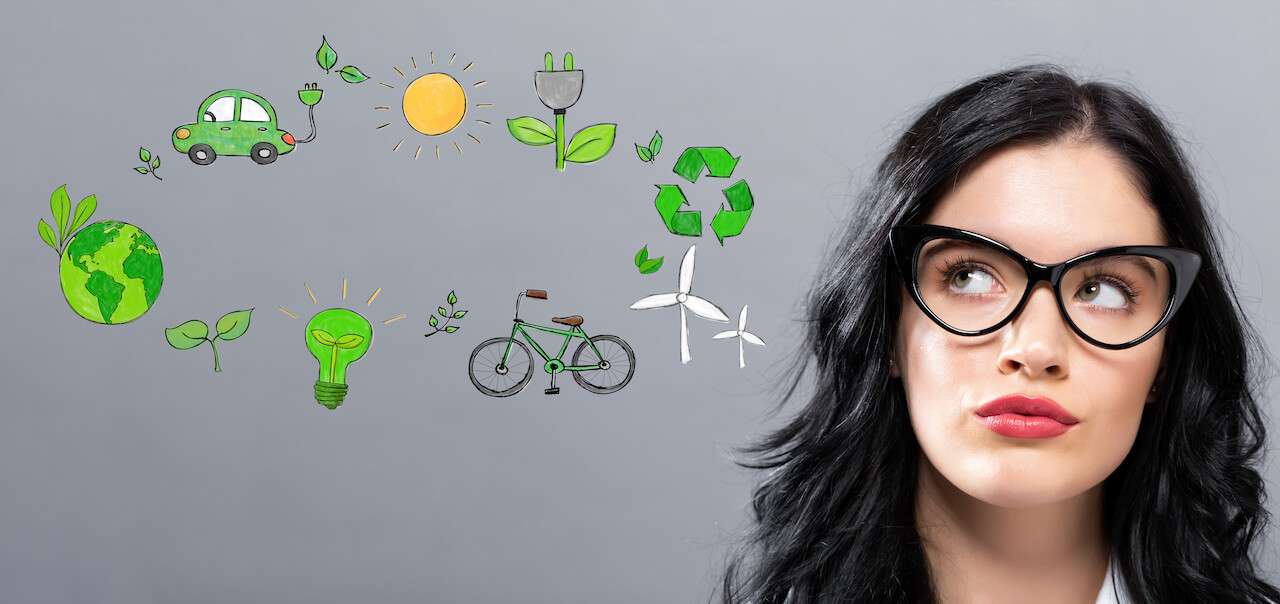 If you've researched eco-friendly eyewear, you've most likely looked at green alternatives for acetate, or eco-friendly acetate. The majority of eyewear companies use acetate due to its high-quality, glossy, and flexible structure. As a matter of fact, acetate can be found in many eco-conscious glasses brands like Proof Eyewear and Shwood. Cellulose acetate is a renewable and natural material, providing an eco-friendly alternative to petroleum-based plastics. But let's take a closer look at how acetate is manufactured.
Read More: Are Acetate Frames Destroying Eyewear Lenses During Shipping?
The three main ingredients found in acetate are acetic acid, acetic anhydride, and sulfuric acid. These are highly corrosive and dangerous substances, and the waste can be harmful to the environment if not disposed of properly. To add to this, some manufacturers add plasticisers, which can include the dreaded toxic phthalates. So, at first glance acetate isn't as 'eco-friendly' as one may think. But if not acetate, then what?


What are my alternatives?
Let's take a look at some of the alternatives that you can consider for manufacturing your eco-friendly eyewear glasses.


Recycled plastic glasses:
Recycled eyeglasses are probably the most common option that eyewear companies use to make their eyewear more eco-friendly. Eyeglass companies that manufacture recycled eyewear, like Solo and Sea2See Eyewear, are top choices for eco-conscious consumers. While the process for manufacturing recycled eyewear can vary based on different types of plastics, these are the steps that generally take place:
Collection.


Sorting: Grouped based on their resin code (RID)


Shredding and washing: The sorted plastics are shredded and washed to remove any impurities


Melting and Pelletising: The plastics are melted and smashed together to form plastic pellets. These pellets can then be used in the production of other products, like making recycled eyeglass frames
To read more about recycled eyeglasses manufacturing, and its effect on the environment, take a look at our recent blog post: Recycled Eyeglasses Manufacturing - Good for the Environment?
Metal frame glasses:
Metal frame eyewear is a more sustainable and long-lasting choice for consumers. For manufacturing, metal eyewear is made from a special alloy, such as stainless steel frames, titanium, nickel silver, aluminium, Monel, etc.
Below are two key necessary steps taken to produce metal frame glasses:
Material preparation: Materials include eye wire, bridge metal, end piece and other accessories.


Accessories producing: Process oil pressing or wire cutting the material. Then the accessories go through a series of steps like bending, cutting, welding, etc.
While these metallic materials are more eco-friendly than plastics, you also need to look at the entire manufacturing process. For example, titanium, a very common metal for frames, can produce extremely toxic waste during the production of the metal. The process for making titanium creates sulfuric acid waste or chlorine gas that can leak into the water or air, and have devastating effects on the environment.
Bamboo frame glasses:
Bamboo is by far the most eco-friendly material for wooden eyewear glasses. It is an abundantly available resource that grows as fast as 2 feet per day, making it the fastest growing plant known. Besides the environmental benefits, bamboo frame eyewear is exceptionally lightweight and comfortable to wear.
If you are considering manufacturing bamboo eyewear, it is important to note that it does require more time and is slightly more expensive due to some parts of the process being hand-crafted.
Eco-packaging & placeholder lenses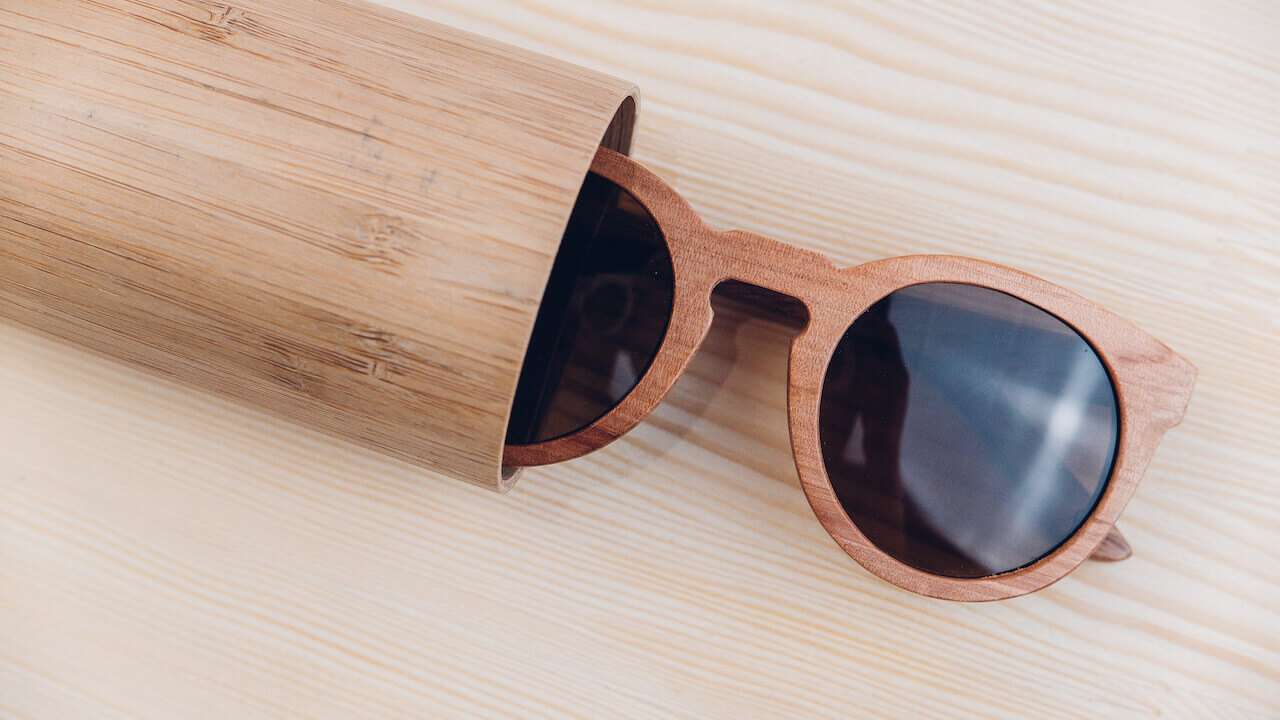 More often than not, eco-conscious consumers who have intentionally bought from specific brands that they consider to be sustainable, turn out to be disappointed by the outcome. Why? While the eyewear frame is made from environmentally-friendly materials, the transit packaging material is packed with plastic, most of which ends up in landfill. The amount of protective packaging is not only wasteful but runs counter to the purpose of eco-friendly eyewear.
The amount of waste generated from plastic lenses has a detrimental effect on many aspects of our environment. In landfill, plastic lenses take up to 500 years to decompose, leaking pollutants into the ground. If thrown down the drain, plastic lenses break down into smaller particles to form microplastics, polluting our oceans. Fortunately, however, all of the waste related to contact lenses is now recyclable!
BD8 is a revolutionary biodegradable plastic that is eco-friendly, and equally resistant, versatile and can be naturally broken into carbon dioxide, water and biomass. Its Bio Lens start to biodegrade in 10+days in landfill and the ocean, which can be broken down into carbon, H2O, and organic matter. Contact BD8 here if you want to work with them.
Which option should you choose?
So, which material is best for your eyewear business?
Ultimately, this decision is up to you. But – regardless if you're creating eyeglasses from bamboo, metals or recycled plastic – eco-friendly eyewear is here to stay. At PEL, we're here to make sure your factory, processes, and product quality is compliant and tracked.
We offer testing and auditing services to help you ensure environmental compliance and verification. PEL's services help you to understand your supply chain in more detail, and spot opportunities to improve your environmental impact without losing out on quality.