Plano sunglass sales in North America alone totaled over $4 billion USD for 2017, with exponential growth and interest in high-end eyewear it's time you get on the bandwagon. Read on to see what you can be doing to improve your eyewear knowledge and sales.
Most people around the world own a dozen pairs of shoes, but two-thirds of individuals making use of eyewear own only a SINGLE pair of eyewear.
The key to selling more eyewear?
Eyewear professionals need an efficient and consistent process to demonstrate the lifestyle benefits of multiple pairs of eyewear to existing and potential clients.
There's room for dramatic growth towards multiple-pair eyewear ownership and not just for the rich and famous.


FURTHER READING
---
---
Sunglasses sales in 2017 increased by 3.2 percent at all retail outlets according to The Vision Council, this exceeds the growth of lenses at 1.8 percent and frames at 0.9 percent.
There has been an increase in disposable income that has resulted in the increased purchase of eyeglasses, especially sunglasses and spectacle frames, which have been traditionally perceived as a fashion accessory.

Consumers are more likely to buy a new set of eyeglasses or replace their old pair, rather than holding on to an outdated pair. On top of that, the growing preferences of luxury and branded sunglasses are contributing significantly to the eyewear demand.
Consumers are showing a preference towards premium products and are willing to spend more on these products. Which is why vendors have introduced innovative eyewear products to cater to various needs of the customers.
If you consider the projected growth for North America alone (see graph below) you can see that this market isn't projected to slow down anytime soon, quite the contrary: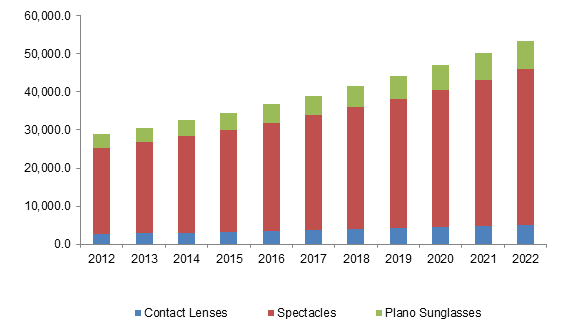 In terms of USD sales, Plano Sunglasses (non-prescription sunglasses) totaled over $4 billion in sales for 2016, although only $380 million of those sales went through optical retailers.
That were an estimated 104 million pairs of sunglasses sold in 2016.
Sunglass sales account for less than 5 percent of the revenue generated in a typical optometric setup or practice. Only 19 percent of adults who wear prescription glasses own prescription sunglasses, even though it's become easier to get a pair specifically designed to match their unique style.
What's hot and what's not?
There has been an increasing interest in disposable and low-cost lenses which has garnered some serious attention due to its affordability.
Frequent renewal of spectacle lenses due to ceaseless change in prescriptions is expected to grow the demand categorically over the forecast period above.



However, increasing awareness and adoption of vision correction procedures and surgeries such as LASIK are foreseen to impede the demand for such products. And recently, Israeli Ophthalmologists invented revolutionary eyedrops that could replace eyeglasses altogether.

The increasing demand for high-end sunglasses and eyeglasses among consumers in European countries such as Germany, UK, France, and Spain is growing significantly.
The personalization of eyewear products and services has helped the small eyewear marketers to develop long-term relationships with customers and encourage repeat business.
Eyewear designers are increasingly focusing on the development of eyeglasses and sunglasses in new styles, shapes, and sizes. This continuous improvisation has provided the consumers with more product options.
Optical retailers with a sharp eye are tapping into this market by featuring premium brands highly valued by fashion-conscious consumers, and the truly savvy are starting to import and brand their own eyewear. These retailers are promoting awareness of the benefits of eye health protection and the enhanced visual performance that high-quality eyewear provides.
What You Can Do to Sell More Eyewear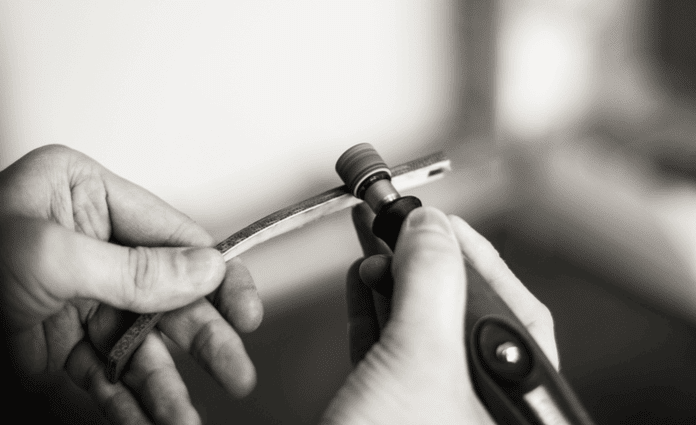 Consumers purchase eyewear that they believe improve their lives and satisfies their outdoor vision and lifestyle needs.
To reinforce this, you can raise awareness of sunglasses when dealing with clients face to face or with the content you make available, in the form of blogs or newsletters or good old word of mouth.
By putting useful content out there you're raising awareness and gaining brand trust from your clients at the same time. Underscore the importance of eyewear at any possible opportunity, if a customer comes into your shop, or you're dealing with "distributors", point out the importance of sunglasses as a benefit to eye health.
"Consumers purchase eyewear that they believe improve their lives and satisfies their outdoor vision and lifestyle needs"
Be informative and ask questions like:
How much time do you spend outside?

How often do you drive during daytime?

Did you know that quality sunglasses reduce glare and block harmful UV rays?

Did you know that squinting is a major contributor to periorbital lines, better known as age lines? (ok we may have made this one up, but you get the point)
Be the sunglasses guru!
Explain the long-term benefits of sun protection for eye health or the pleasures of driving with polarized lenses as opposed to conventional lenses.
Stock and merchandise a broad range of sunglasses with varied price points, and take the opportunity to grow your brand wherever you can. Nearly every adult is a sunglasses consumer, and many look to update their appearance on a regular basis. When optical retailers and distributors convey this clear message of performance, protection, and individual expression, they'll be well positioned to capture the full growth potential of the sunglasses industry.