Would you risk the safety of your or your families' eyesight? Probably not! Safety glasses can mean the difference between losing one's eyesight or clear vision for the rest of your life. If you wouldn't risk your eyesight, why would you risk your clients'? You MUST be 100% sure that the PPE safety glasses you put on the market do exactly what they're supposed to, read on to find out how.
Protective eyewear in the workplace is like an extension of oneself, and thankfully it's become more commonplace on the sports fields as well. Sadly, some PPE eyewear manufacturers and suppliers don't go to the effort of adequately testing the products they put on to the market, which can have dire consequences. Sports injuries are now the leading cause of vision loss in children.
This blog's purpose is to put safety glasses and the correct testing methods and regulations in a clear light.
With the minimum amount of effort you can ensure the safety glasses you put on the market have been tried and tested and are safe to use. Safety glasses you would give your family to wear.
Here's a video from the Washington State Dept. of Labor and Industries illustrating exactly why good quality safety glasses are so important, and what the results look like if you produce substandard PPE eyewear:
Here are the 10 Best Practices You Must Follow to Ensure Quality Eyewear Manufacturing.
What's the Difference Between Regular Glasses and Safety Glasses?
Safety eyewear must conform to a higher standard of impact resistance than regular eyeglasses. The higher standard applies to the lenses as well as the frames of safety glasses and goggles.
What about regular eyeglasses?
Regardless of their size or the durability of the lenses and frames, regular prescription eyeglasses do not qualify as safety glasses. Unless they are specifically manufactured to meet strict criteria, regular eyeglasses won't protect your eyes as safety glasses should.
What about Sunglasses?
Because sunglasses have dark lenses, some people mistakenly assume these glasses will provide the needed protection when welding, brazing, or cutting. This is thoroughly incorrect. Wearing glasses with darkened lenses which are not made for industrial applications can be more dangerous than wearing no glasses at all. This is because the eye attempts to compensate for less light by opening the pupil wider. Sunglasses are not welding/cutting goggles and won't stop objects moving at high speed.
Worldwide Quality Standards for Safety Glasses
The graph below outlines the standards specified according to different regions worldwide: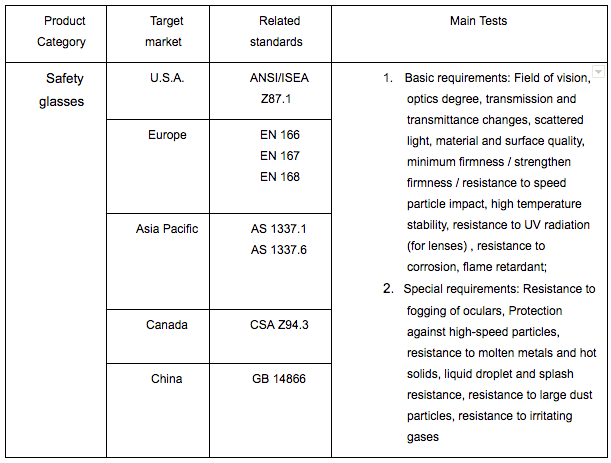 ** Please note that EU Regulations relating to Safety Glasses have changed and came into effect on the 21/04/2018:
On March 31st 2016, the European Commission published new PPE legislation as per regulation (EU) 2016/425, which took effect on 21/03/2016, 20 days after the release date. This will replace the current PPE Directive 89/686/EEC which required all PPE placed on the European market to be CE marked. The transition period was given a period of 2 years. It means that all manufacturers must comply with the new requirements by the 21st of April 2018.
Testing Safety Glasses to Ensure The Safety of End-Users
Recommended tests to perform on Safety Glasses:
Optical Quality
Luminous Transmission
Optical Power
Haze
Drop Ball Impact Resistance (ocular fracture, deformation, frame failure and lateral protection)
Ignition
Corrosion Resistance of Metal Components
Quality of materials
Minimum Lens Thickness
High Mass Impact
High-Velocity Impact
Eye Coverage and Field of View
Penetration Test (lenses only)
Inflammability
Field of vision
Let's take a closer look at some of the tests
Field of vision
The size of the field of vision is defined in conjunction with the appropriate head-form as described in clause 17 of EN 168:2001
Eye-protection shall exhibit a minimum field of vision defined by the two ellipses in the figure below:
When glasses are placed and centered at a distance of 25 mm from the surface of the eyes of the appropriate head-form. The horizontal axis shall be parallel to and 0.7 mm below the height connecting the centres of the two eyes.
The horizontal length of the ellipses shall be of 22.0mm, the vertical width of the ellipses shall be 20,0 mm. The centre distance of the two ellipses shall be d = c + 6mm, where c is the pupillary distance. The pupillary distance is 64 mm for the medium head-form and 54 mm for the small head-form, if not differently specified by the manufacturer.
Quality of material and surface
Except for a marginal area of 5 mm wide, oculars must be free of any significant defects that are likely to impair vision whilst in use i.e. any bubbles, scratches, inclusions, dull spots, pitting, mould marks, scouring, grains, scaling and undulation.
FURTHER READING
---
---
Protection against high-speed particles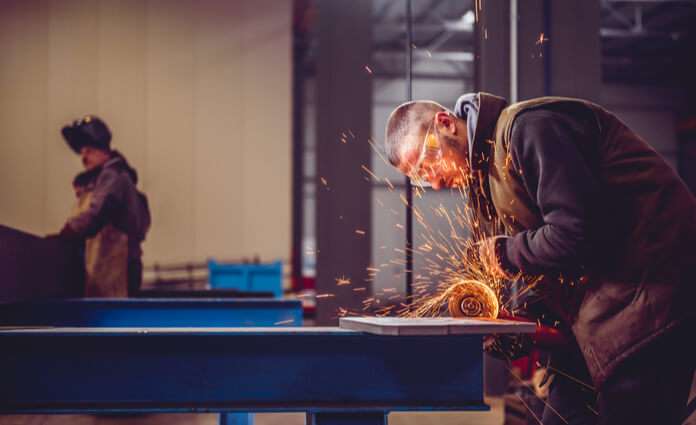 Safety glasses intended to provide protection against high-speed particles must withstand the impact of a 6 mm nominal diameter steel ball with a minimum of 0,86 g in mass. The speed of the drop will be determined by the type of protective eyewear - goggles, spectacles or face shields according to standards listed in EN 168:2001.
During testing the following defects will mean an immediate negative result:
Ocular fracture: an ocular shall be considered fractured if it cracks through into two or more pieces, or if more than 5 mg of the ocular material becomes detached from the surface away from the one struck by the ball, or if the ball passes through the ocular;
Ocular deformation: an ocular shall be considered to have been deformed if a mark appears on the opposite side to that struck by the ball;
Ocular housing or frame failure: an ocular housing or frame shall be considered to have failed if it separates into two or more pieces, or if it's no longer capable of holding an ocular in position, or if an unbroken ocular detaches from the frame, or if a ball passes through the housing or frame.
Lateral protection failure: the lateral protection shall be considered to have failed if it fractures through its entire thickness into two or more separate pieces, or if one or more particles become detached from the surface remote from the impact point, or if it allows the ball to penetrate completely, or if it partially or totally detaches from the eye-protector, or if its component parts become separated.
Here's what a drop ball test looks like in real life from Fuse Lenses:
What To Expect From A Test Report
To put things into perspective we've made one of PEL's recent reports available. In this report PEL performed a series of tests on children's safety glasses. Click on the image or link below to view the full report:
It goes without saying that safety glasses fall into a sensitive category within the eyewear trade, one with zero margins for error. We can go on for hours about the benefits of testing safety glasses before you put them on the market, but the fact is you can't afford not to test your eyewear products. The costs involved for rigorous tests, and ultimately peace of mind, are marginal.
Do you have any cautionary tales about failed safety glasses you'd like to share with our readers? Any questions you'd like to ask? Please leave a comment below to get the conversation going.