3D Printed glasses are revolutionising how eyeglasses are manufactured and designed. A large number of eyewear manufacturers have adopted this layer-by-layer technique, primarily to differentiate their eyewear products from their competitors, bringing more innovation to their designs. However, 3D printing technology opens a new path for your eyewear company.
3D printing, in fact, is still in the stage of infancy. Yet, it holds tremendous potential for gaining profits and can produce massive opportunities for innovation. According to the graph below, the eyewear industry has grown by more than $2oo million, and it will be worth $3.4 billion by 2028. To add to this, its major growth lies in 3D technologies, which consist of high-level prototyping, most notably material jetting. This technology has several advantages, including but not limited to high resolution, smooth surfaces, and a wide selection of colours and materials.
So how will your eyewear company benefit from 3D printing technologies? Read on.
Benefits of 3D printing technologies for your eyewear glasses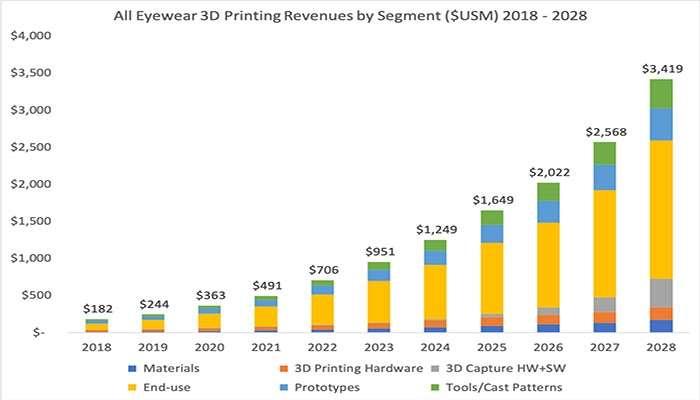 Provides infinite design and aesthetic possibilities

You will have probably faced some manufacturing limitations that can cramp your style. With 3D printing technologies, you can produce complex, fluid shape structures that are either too costly or impossible to make with traditional eyewear manufacturing processes, namely injection moulding.
Thanks to this latest technology, you can enjoy a high degree of freedom to create unlimited designs for your 3D printed glasses frames, totally custom-made.
Use fewer materials (environmentally friendly)
Did you know that more than 45% of eyewear frames manufactured across the globe are never sold? This can not only have a negative financial impact on a business, but it's environmentally unsustainable too. With 3D printing technology, however, your brands will become more customer-centric; an excellent approach where you are matching to what users expect: tailor-made eyewear – therefore, resulting in less wastage.
Produce high-quality glasses
Three main factors are considered when producing eyeglasses:
Quality
Resistance
Durability
Polyamide 12, referred to as nylon, is a common material used for 3D printing glasses frames. This material is well known for its high quality, resistance, durability, and provides a great degree of freedom for designing. In this regard, owing to 3D printing, you can produce superior quality 3D printed glasses.
Increase your brand awareness
With the advancement of 3D printing technologies, they will surely help you to get ahead of your competitors, ultimately leading to stronger brand recognition. From achieving unlimited possibilities of design to increasing your business profile, 3D printing technology is what you need to elevate your eyewear brand to the next level.
Companies benefiting from 3D printing technologies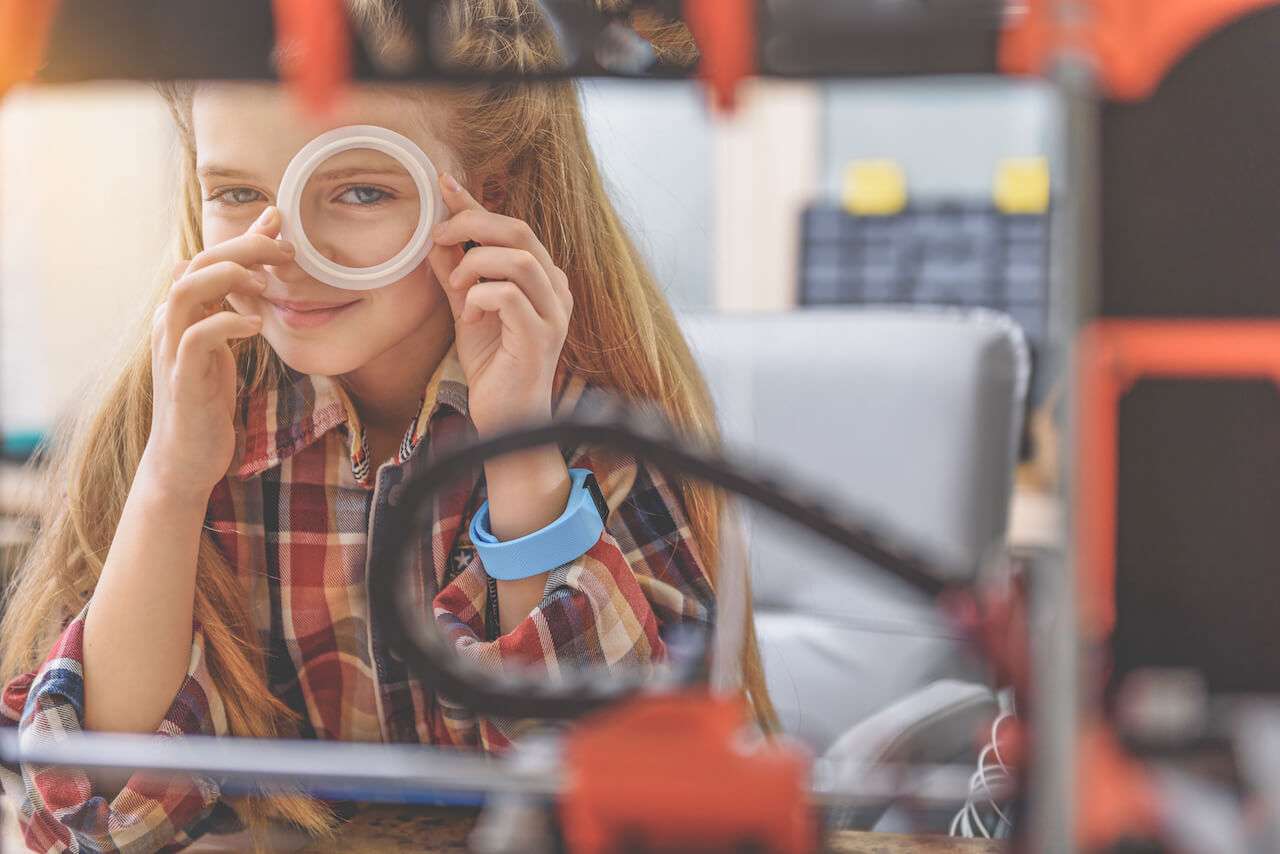 Mykita Mylon
Customised 3D printed glasses first appeared in the eyewear industry as early as 2012. Mykita Mylon was one of the first eyewear manufacturers to utilise 3D printing to manufacture spectacle frames. In 2007, the company initiated the exploration of polyamide materials and the use of SLS (Selective Laser Sintering) to adjust them to your facial structure. Additionally, this company has won several awards associated with the lightweight and durable nature of its frames, in addition to its innovation.


Boulton Eyewear
Boulton Eyewear also heavily relies on 3D printing technology. It uses an upgraded version of printing technology – DLP (Digital Light Processing) – that consumes less material through customised production, thereby reducing costs and causing less wastage.
Overall, 3D printing may prove to be a game-changer. However, owning suitable 3D printing technology for spectacles is still regarded as expensive and, on top of that, you may face other obstacles when using 3D printing technology. As indicated above, nylon is the primary constituent used for printing. Nevertheless, this material is actually hard to control, in that the finish of the frames is rough (porous), unlike material that has a splendid finish, namely acetate. This is why acetate is still preferred.
Furthermore, the process of 3D printing is slow. Traditional injection molding is very quick and can produce 10/20 frames depending on the size of the tool and capacity of the mold. With a 260 ton mould, you could easily produce 10 frames in a 40–120 second cycle. But, irrespective of its rapid performance, it is not easy to change colours nor design freely without 3D printing technology.
In a nutshell, 3D printing technology cannot replace the current manufacturing process for the time being as it takes a relatively long time to generate customised 3D printed glasses. Still, manufacturers will continue to explore further possibilities, and the technology will continue to improve by becoming more accessible and affordable in the near future. The truth is, if you want to be at the top of the game, you will have to give it a try and experiment.
Do you have any experience 3D printing glasses, or know of someone making headway?
Please feel free to share your comments with our readers below.