Statistics, unlike politicians, don't lie. The results of a recent sports eyewear sales survey are in, and the results prove you need to be selling sports eyewear.

Ninety-two percent of independent optical locations selling eyewear also sell some form of sport or protective eyewear; it's the natural next step if you're already selling any other type of eyewear.
We understand that adding more products to your existing list of stock can be hard and it raises questions like - "Exactly which products should I go for?" "What sells the best, and what are the clients in my area looking for?" " How does this fit into my business model/type/brand?"

So where do you start?

The first place you need to go for information is to your eyewear peers. Also, there are ample resources available to you, a lot of which we have made available to you in this article. Surveys are an excellent resource for up to date information in your industry.
Resource number one - the survey.

Jobson Optical Research recently ran a survey to see if sports eyewear is a significant enough factor to consider for your eyewear sales, and the short answer is yes. We're going to look at the statistics to give you a clear indication of why you should be selling sports eyewear.
Which, If Any, of the Following Eyewear, Does This Location Dispense?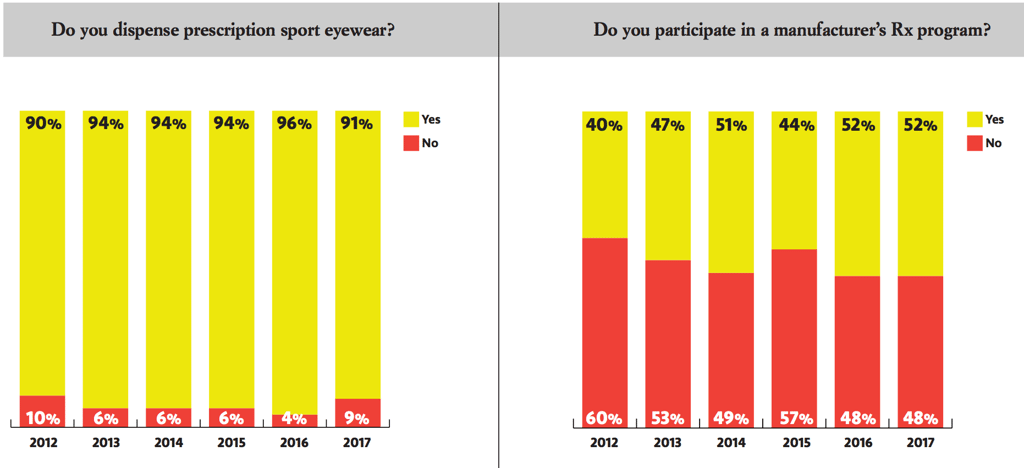 Even if you wear contact lenses every day, having a pair of prescription sunglasses can be more practical for the outdoor activities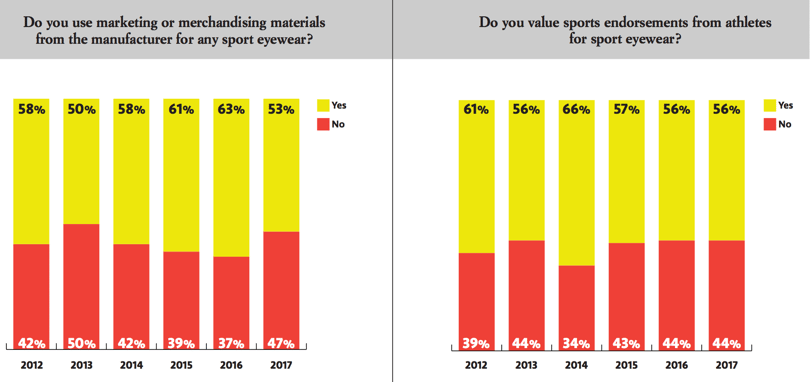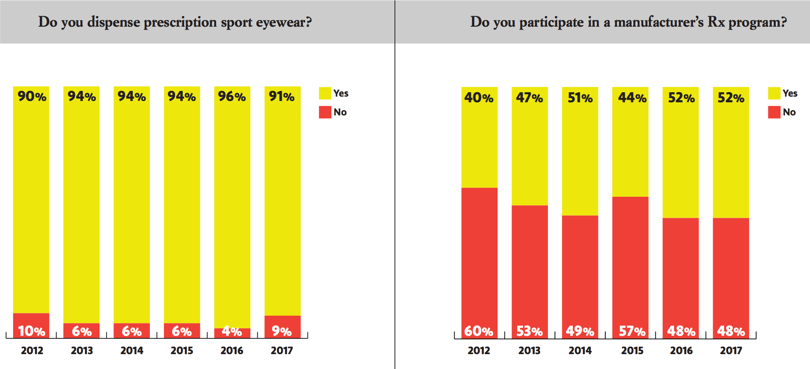 A Quick Look at Sports Endorsements
Unless you're a well-established brand, you're not likely to take on any sports heroes to endorse your product, not yet at least. But it's worth understanding the impact sports endorsements have on a product/brand.


So, I ask again- Does this work for eyewear?


Besides brands like Nike or Reebok who produce their own line of eyewear on top of their clothing, shoes, etc. The only real company making a visible play at Sports Eyewear endorsements is Oakley:


Top-ranked golfer Rory McILroy was signed to an endorsement deal with Oakley when he was only 16 years old, and today is the face of their golf business.
Seattle Mariners outfielder Ichiro Suzuki endorses Oakley.
Professional hockey right winger Teemu Selanne endorses the brand as well.
Other athletes include NASCAR's Clint Bowyer, three-time Olympic gold medalist Kerri Walsh Jennings, fitness guru Karena Dawn and snowboarder Jake Blauvelt, among many others.
Oakley even went as far as releasing a 2017 Tour de France Edition Eyewear
So What Do Sports Endorsements Mean for a Company?
Consistently research has shown that athletic endorsements have a direct impact on a company's' bottom line - When endorsement deals with Tiger Woods were announced between 1996-1998 ROI increased by 1%. These endorsements included: Nike, American Express, and Titleist. His success on the golf course helped increase sales of Nike specifically.

When Michael Jordan announced his return to basketball in 1995, the five companies he was endorsing reported a 2% increase of stock returns, which resulted in more than $1 billion in market value. (Nike, Gatorade, McDonald's, Hanes, and Wheaties.) You can read more about it in the article "How Michael Jordan Still Makes $100 Million A Year."

A recent study examined 178 athletic endorsements from 95 different companies, which concluded that endorsements boost a brand's sales by an average of $10 million a year, and increase short-term return on equity by 0.25%. This figure grows significantly if the athlete wins a championship.
Why does this affect YOUR business?
A wise man once said "When thinking about the future you should envision where you will be in the future as well. Not where you will be in life, what car you'll be driving, but where you'll be with experience and mental capacity. You have to compensate for the fact that you will be much wiser and experienced later on, and in fact better equipped to deal with anything that might seem far away, much better than you can imagine at this point in time."
Sports endorsement might not directly apply to your business model today, but knowing the facts can't hurt.

The percentages might not look that high to you, but more patients are requesting sports eyewear than ever before. Imagine what the statistics would look like if the use of sports eyewear was more actively promoted.
Where do you purchase your eyewear from?
Nearly 80% of all the retail shops included in this survey indicated that they purchase their eyewear from sales representatives. Do you fall under the 80%?
Why not manufacture your OWN eyewear, or get it straight from the source? Here are some resources on the topic that should give you ALL the information you require: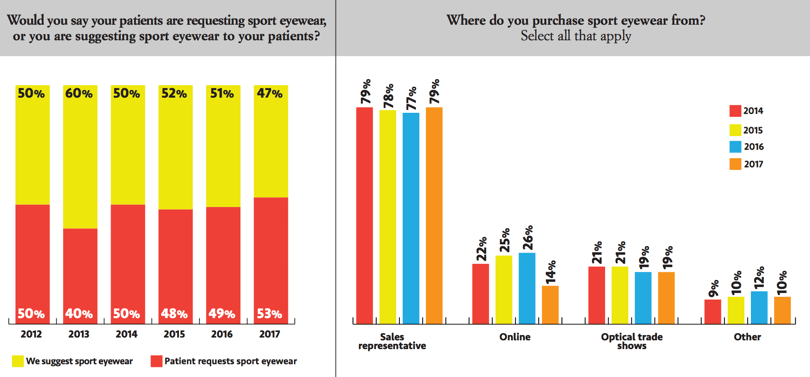 What Methodology Was Used For This Survey?
Jobson Optical Research conducted this research in March 2017. The graphs displayed below were derived from Johnson's proprietary database. Only eyecare professionals at independent locations who sell eyewear were qualified to participate in the survey. 210 respondents completed the survey in 2017.
Which Sports Use Protective Eyewear and What Features Should I Look For?
Prescription glasses, sunglasses and even industrial safety glasses (PPE Eyewear) typically do not provide enough protection for use in sports.
Sports goggles are made in a wide variety of shapes sizes and materials such as HDPE, depending on which sport they are used for, indoors or outdoors, etc. Safety glasses are commonly used in racquet sports, but some are even designed to fit in helmets used for hockey, baseball, and football.


Which Sports Use What Eyewear?
A lot of the sports listed below are very niche, and depending on where you are in the world some of these might not apply to you. However, many of these sports use standard protective eyewear, meaning you could essentially start by adding one type of eyewear to your inventory that could serve the same purpose across several types of sports.
Do a bit of market research in your area to determine the local demand. Find out which seasons what sports are played and which is the most popular in your area. Speak to local sports clubs or schools about where you could be providing value in offering sports eyewear.
We've highlighted all the sports that use the same basic type of protective eyewear below (color coded):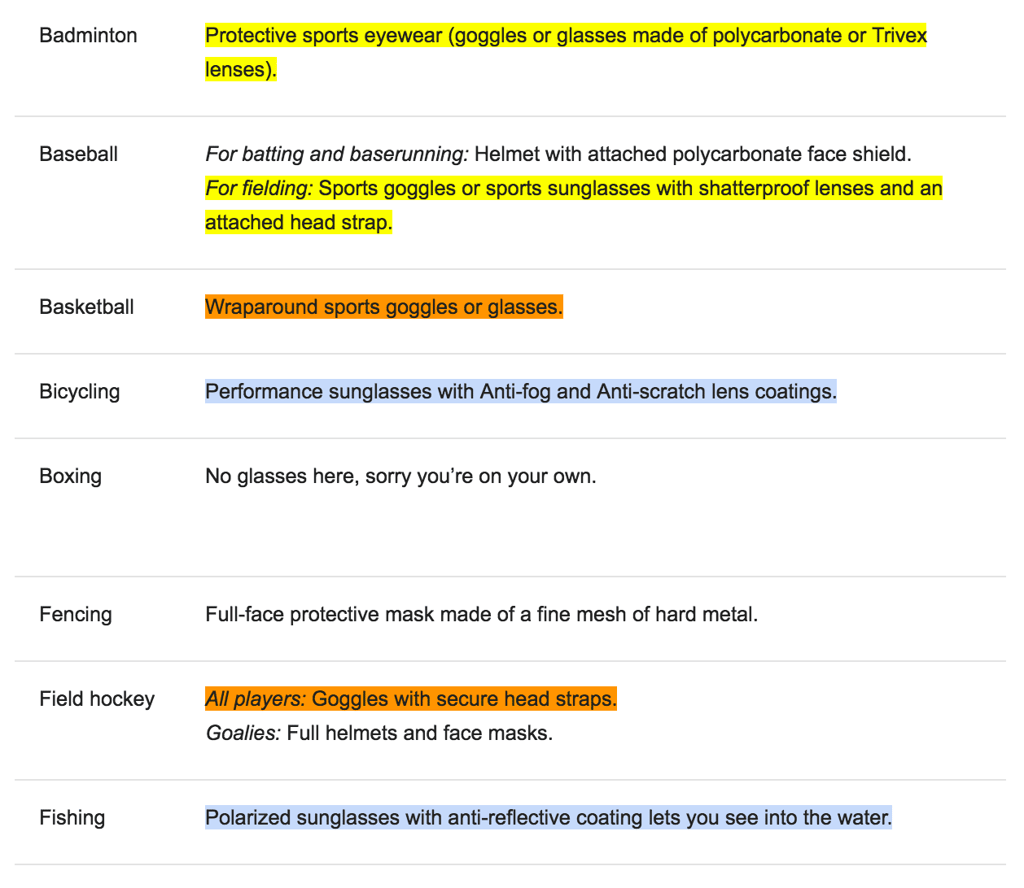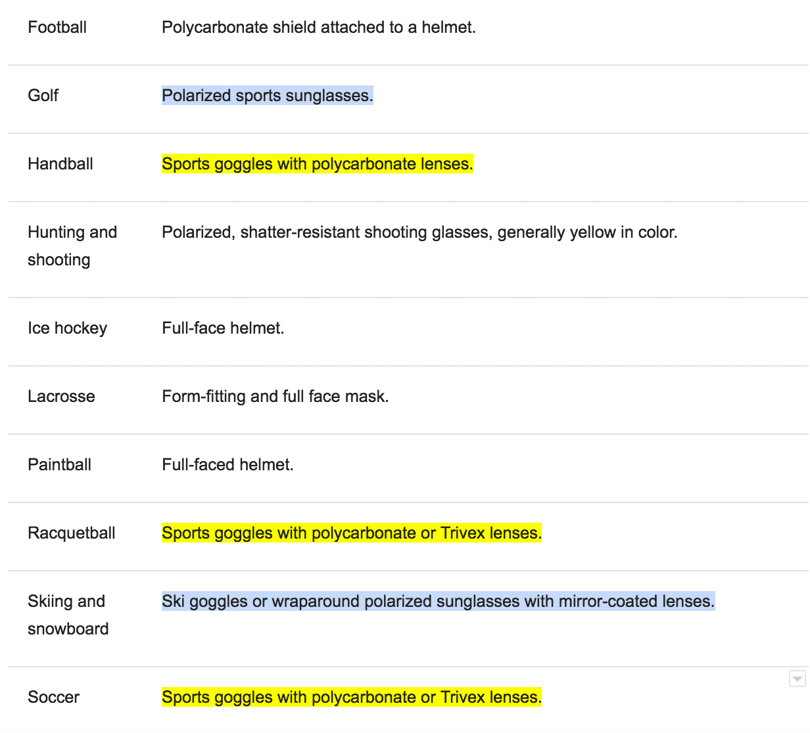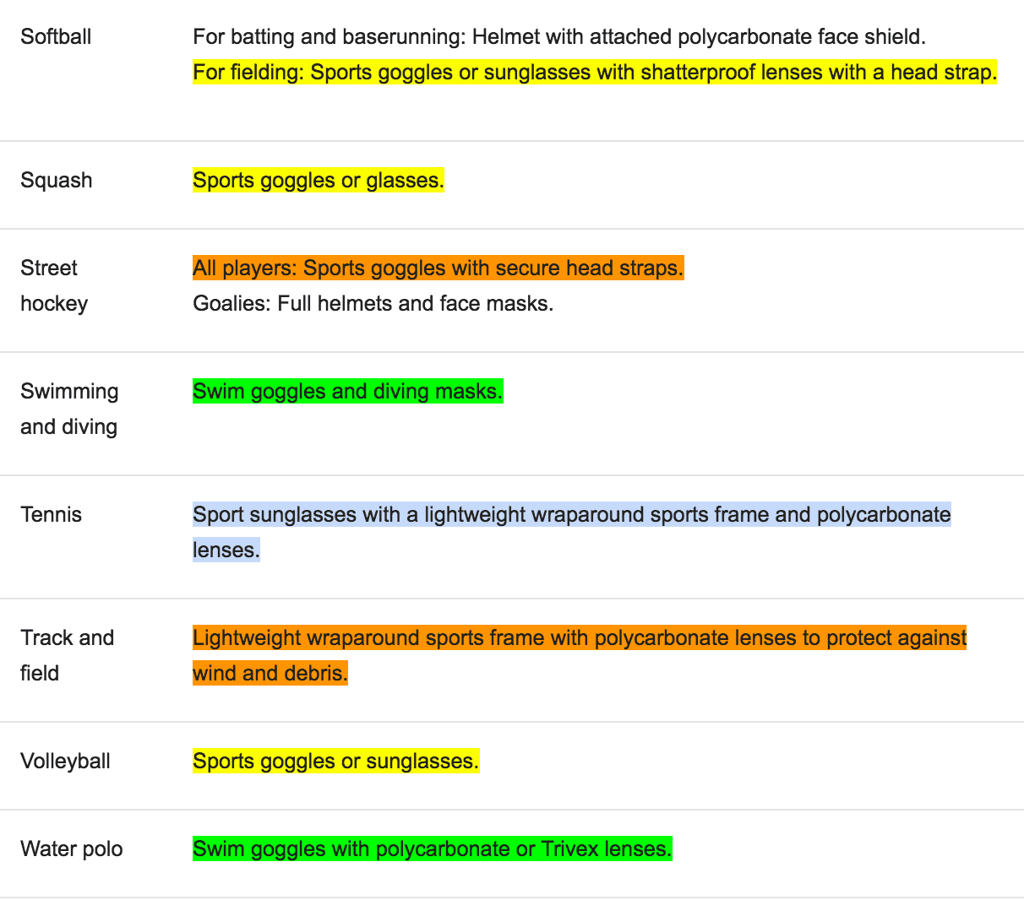 What's it made of?
Lenses in sports eyewear are usually made from polycarbonate because it is such an impact-resistant lens material, it works well to protect eyes from fast-moving objects.
Best of all:
Polycarbonate also has a naturally built-in ultraviolet protection which is very useful for outdoor sports. Untreated polycarbonate lenses, however, can easily scratch, so nearly all polycarbonate lenses used in sports eyewear include a scratch-resistant coating on both the front and back of the lens.
Polycarbonate is the material of choice for sports lenses, but the frame of the eyewear also plays an important role. Eyewear frames for sports eyewear are made from a variety of plastics depending on the application and manufacturing method. Plastics such as HDPE are commonly used for molded frames, or combinations thereof, shying away from designer materials such as acetate which would be impractical in the use of sports eyewear.
But different sports require different types of frames, which has led to the development of specific frames for particular sports. Sports frames are constructed with rubber padding to cushion the frame where it comes in contact with the head or the nose area.
What you NEED to relay to your clients
When it comes to achieving their personal best in sports, eyesight is a major factor to consider in athletic performance. They should be encouraged to put sports eyewear at the top of their priority list when shopping for gear to enhance their game. It should be a no-brainer, and an easy sell as the benefits far outweigh the costs. A lot of people play sports; there's a whole other market besides your typical customers looking for "normal" glasses or sunglasses.
Here's the deal:
Perhaps your clients don't realize that they can request these different types of eyewear yet. Which is why you will have to remedy this, clients can't order what they don't know, so it's your job to enlighten them.
Do you have any experience with sports eyewear that you can share with our readers? Are you thinking of adding sports eyewear to your inventory?
Please let us know your thoughts, experiences, and tips by leaving a comment below.